Who can join ISCA as a warehouse logistics alliance members?
Any service provider who is providing warehouse storage, transportation, third party logistics service providers and fourth party logistics service providers around the world.
What are the benefits to join ISCA as an logistics alliance member?
Logistics alliance members can expand business opportunities,geographically and
entry a new market with an extremely low sales costs.
Steps to join ISCA warehouse alliance member: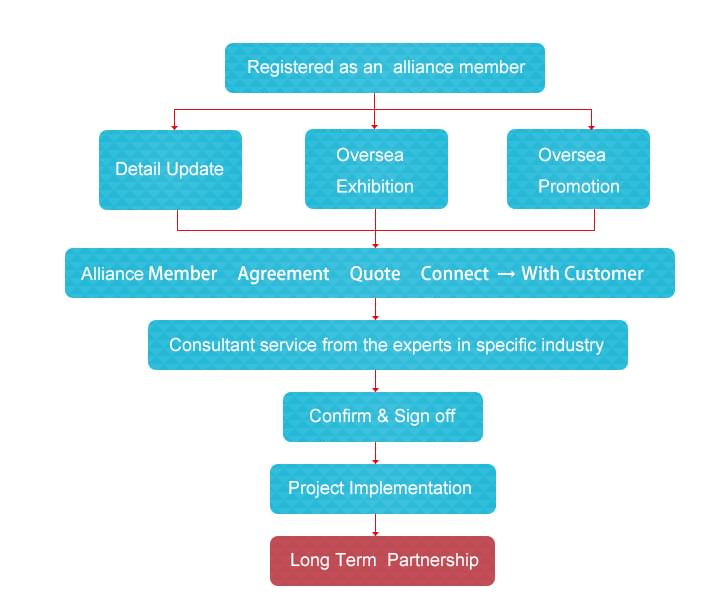 What ISCA do for alliance members?
Registration
Alliance member registration is free of charge. Our experts will guide you to fill-in member's basic information, such as pictures + 5 km map + description of your company and post it on our global platform.
Global Promotion
We will promote your company to our customers who has been using our services. We also recommend your company to customers who looking for logistics services when criteria matched.
Sign Contract
Alliance member is directly deal and sign the service agreement with the customer.
Start Operation
ISCA also provide warehouse logistics system and performance dashboard. Our consultants team will communicate in between service provider and user to resolve any misalignment.
Our Commission
We charge service fee or commission depends on different country/region before the project get started.
Who can join ISCA as an user members?
Manufacturers, Retailers and individuals who is looking for logistics services.
What are the benefits to join ISCA as an logistics alliance member?
Manufacturer/Shipper can expand the business geographically and new markets with a extremely low sales costs. We also provide a large amount of options and reliable service providers to allow you to select the best-fit partner.
Our professional experts also provide services to ensure the business is well implemented.
Join ISCA as Manufacturer/Shipper Process:
What ISCA do for manufacturer/shipper members?
Service Inquiry
ISCA will post your service inquiry on our platform and let all service providers understand your needs and requirements.
Our platform will select the best-fit alliance member and ask for quotes. All the quotes and applications will submit to your mailbox directly. You can check out the details of these service providers through our platform and select your favor candidates.
Sign contract
Once you confirm your partner, you can sign the contract directly with our alliance member. Or you delegate our professional team provide more assistance on your project.
Operation start
You can start your operation with the service provider or you can select ISCA logistics management system to manage your inventory and order. You can also process your own operation system.
4PL and consultancy services
Our consultants can also provide any recommendation on operation process, performance review, project planning and development projects.
What ISCA do for supply chain consultants & experts?
Supply Chain Consultants can join ISCA as a specialist to provide recommendations to our Manufacturers/shippers/warehouse/3PL/freight forwarder/any users. We classify in different categories:
By Industry: e-commerce, cold chain, medical, and recycling logistics etc.
By items: electronic, furniture, chemical, dangerous goods, spare parts and clothing.
By Manufacturing:paper, sporting goods, medical equipment, daily necessities, logistics equipment.
By Food: FMCG, pharmaceutical, fresh fruit, and beverages etc.
Based on customer issues and provide professional advises, cooperate with best-fit alliance members to tackle the problem.

What are the benefits to join ISCA as a professional alliance member?
We will broadcast your professional to anyone who is looking for logistics services and need professional advises on ISCA platform.
ISCA professional alliance member registration process: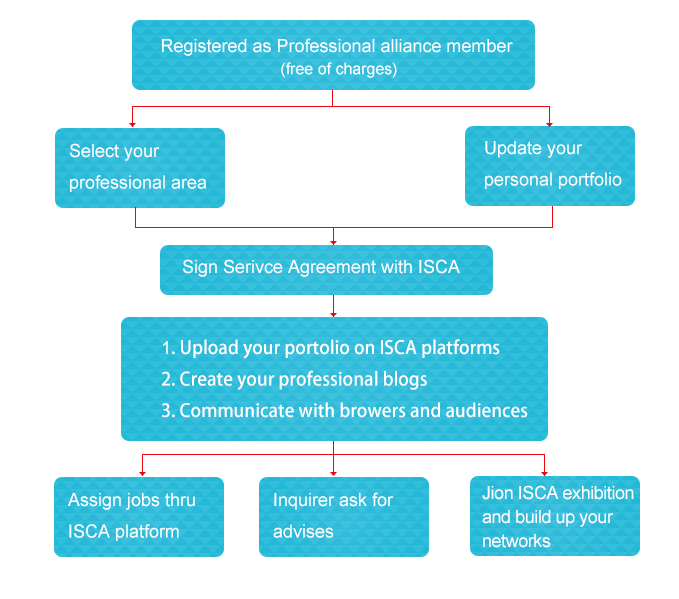 What ISCA do for professional alliance members?
Promotion
ISCA will broadcast your strengthen and professional experiences to all browsers.
Assign inquiries
When anyone is looking for consultant advises or recommendations, ISCA will assign these inquiries to you.
Project
ISCA will also assign projects to consultant by request. ISCA will represent the consultant to sign agreement on specific project and allocate resources.
Participation
Consultant can participate in ISCA exhibitions, forums, and conferences etc.
What ISCA do for advertisers?
ISCA has target browsers who are looking for supply chain and logistics services on daily basis. Logistics and warehousing equipment manufacturers, agents, software developers promote their business to target customers:
logistics equipment: shelves, pallets, turnover boxes, three-dimensional warehouse, automated storage systems, containers, and fridge truck, etc.;
warehouse equipment: forklift and accessories, lifting platform, crane and accessories, robots, and warehouse fridge etc.
packaging material: packaging equipment, sorting machines, automatic robots, bar code materials and equipment etc.
facilities: automobile tail plate, loading platform, bridge, container and warehouse buildings etc.
logistics system: logistics software, RFID, e-commerce, vehicle management system, and GPS communication network system etc.
transportation equipment: logistics vehicles, traffic management system and etc.
other logistics services: logistics finance, cargo insurance, cold chain logistics, dangerous goods logistics services, and security services etc.

What are the benefits to advertise your product on ISCA platform?
Potential Target Customers, Professional end Users, Global Networks with Cost efficiency
ISCA Advertisement registration process: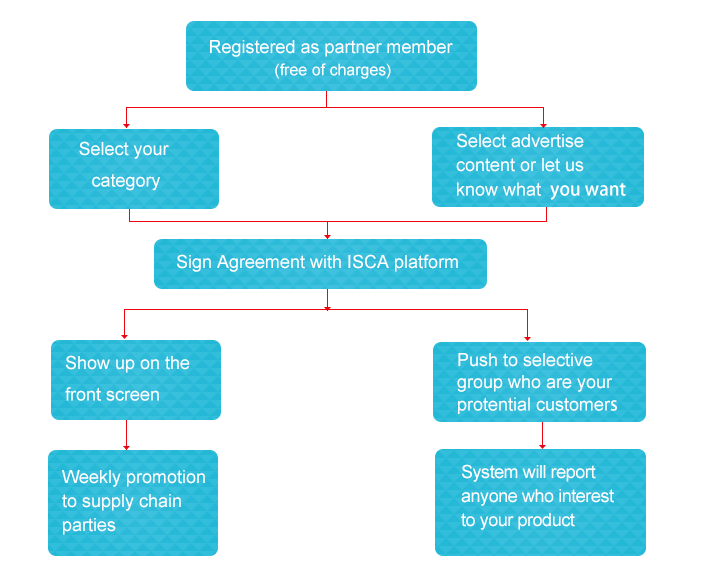 What ISCA do for advertisers?
Promotion
Promote your products, globally and your company's image to professional users.
Target Customer Promotion
Tell us about your potential target customers, ISCA team will plan and design the advisement scheme.
Refer Customers
ISCA will refer customers to you who are interest your product. You can negotiate and deal directly with these customers.
Weekly alliance News
All members of Alliances will receive an alliance news on weekly basis. Your product can show up bright in this paper.